To my daughter and her husband,

May your marriage have more love than loss. More laughter than tears. More memories than gold.

Love you forever and always,

Mom
Halloween 2020
Two years ago, I awoke to a frosty, crisp aired autumn day on Saturday, October 31st, Halloween. It was the morning of my daughter's wedding, during the pandemic. I wrote the following blog post on my previous website, which didn't get a lot of attention.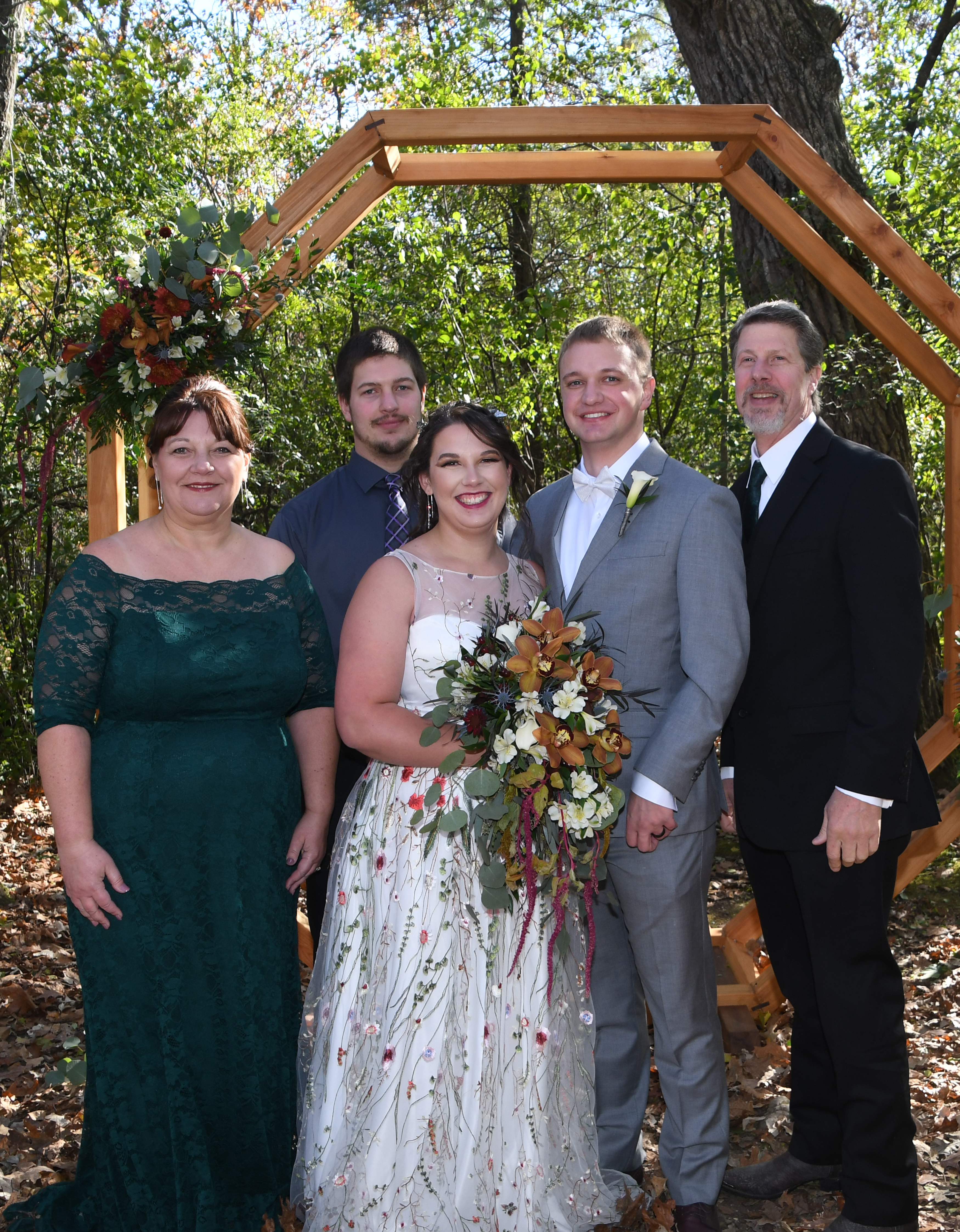 I can't remember a time when I didn't want to be a mom. I've always loved children: the way a baby smells, the excitement at seeing something for the first time, how they can sleep so soundly, their adventurous spirit, their hugs, and kisses. So that made it so much more heartbreaking for me to learn at the ripe old age of 22 that I would not be able to have children on my own.
I was diagnosed with a pituitary microadenoma at 22 and while it wasn't cancerous, it did convince the rest of my body that I was already pregnant. The doctor told me I had only a 5-10 percent chance of getting pregnant on my own. After a mentally, emotionally, and physically exhausting infertility treatment journey, my first miracle child was born. Erin came out screaming and fighting; she did NOT want to leave her warm, safe cocoon in my womb. Eighteen months later, by God's grace, I delivered my second miracle child. On his due date, Jonah was ready to face the world with a calm and positive demeaner.
Though I believe I would still cherish the anticipated and spontaneous moments of motherhood if I didn't have the tiny tumor on my pituitary, I know that they mean so much more to me because there was a strong chance that those memories may never have happened.
That is why in Canoodling Out West- Book Two, it was imperative for me to incorporate scenes that would be treasured by the maternal characters in the story. Both Cat's mom, Claire, and Damon's mom, Heather, have a pinnacle "momory" scene that reflects their motherly essence. For Claire, she's the mother of an independent woman. Her momory moment is pure, simplistic, quiet. Though it is told from Cat's point of view, I believe every mother who reads it will feel that moment as I do every time I read it—with a warmth and calm and a hint of trepidation. Why? Because I know that as quickly as the moment comes, it will be gone. When the time came for Heather's momory moment, I was inspired by one of my most beloved characters in literature, Mrs. Weasley, and her triumph in Harry Potter and the Deathly Hallows. Nobody messes with her kids or they feel her wrath. That's the feeling I wanted for Heather's big momory moment with Damon. Because he exudes strength, power, and positivity in Canoodling Up North and in the beginning of Canoodling Out West, it was important to me that when he is at his most vulnerable, the reader can see that Heather is stronger than he ever was or will be. She is a force to be reckoned with. No one will EVER hurt her baby, or they will face her wrath for eternity.
I have many momories to cherish over the course of the 24 years I've been blessed to be a mom to Erin and Jonah. But the one that I want to share with you all, happened on Halloween 2020. Erin married her true love, Chance, on that gorgeous fall afternoon under the canopy of the Kettle Moraine Forest and surrounded by the love of their newly blended family. At one point during the celebration, she turned to me and shared a moment during the family photos when she felt the spiritual presence of our beloved friend/family member, "Uncle" Harry. He is the inspiration for Uncle Marshall in the series and is included in the dedication of Canoodling Out West. After she told me what she experienced, we both closed our eyes and embraced, knowing how precious that moment was, how special she was to Uncle Harry that his spirit chose to visit her on her wedding day. It is a momory moment for the ages. Unbeknownst to me, my dear friend and professional photographer, Meg McCormick, captured that moment in a photograph. It is a perfect translation of that momory. I would like to share it with you as well. May your life be filled with precious moments and for you to be present in them, always.